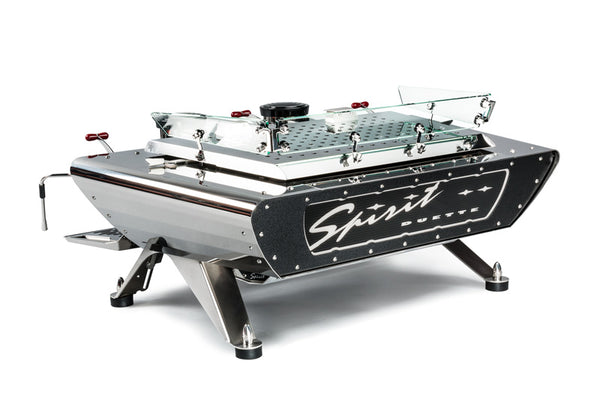 Kees Spirit Duette
---
State of the art multiple boiler machine. Developed with the demands of very high output espresso bars in mind: equipped with well-considered ergonomics: an efficient high precision tool with enormous capacity.
The Spirit was built with a single goal in mind: A machine that delivers extreme precision no matter what you throw at it. Combining the hyper-precise qualities of the Speedster with an extreme power does exactly that. And more.
The Spirit is equipped with multiple boilers: one large steam boiler to produce hot water and steam, one boiler per group to heat water to brew coffee. Each boiler has its own electronic temperature controller system, heating element and safety devices, offering extremely precise temperature stability. Huge capacity is secured by the large steam boiler, over-rated heating elements in all boilers, double pumps and heat-exchangers inside the steam boiler, pre-heating the brew water for the large, dedicated coffee boilers.
DIMENSIONS
Approximate dimensions and footprints of the Spirit are shown in the illustrations. The black circles are the rubber feet. The optimal countertop feedthroughs are within the grey squares. Check the pre-install guide for recommended feedthrough sizes.
 WEIGHT
The countertop should provide a solid base to carry the full weight of the machine: roughly 90kg for the Duette and 125kg for the Triplette.
 NOTES
Water supply from a water treatment system should be within 1.5m (5ft) of the machine. The water supply hose that comes with the machine has a half ball at the end of the 3/8" nut connector. Discharge should not be further away than 1.5m, have an internal diameter of at least 40mm (1.5") and should be fitted with a trap. There must be space nearby to locate the water pump with its electrical motor.