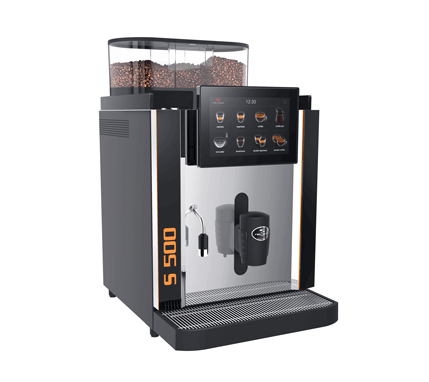 Rex Royal S545 RCST Touch Screen
---
With the powerful Rex-Royal S545 CST, the CT version (coffee and hot water) is enhanced with a steam lance. Using the control knob, you can adjust the steam output just like a barista and froth your milk specialities manually.
You get additional help for wonderful coffee creations with the optional "BaristaSteam": with this system, the manual frothing of milk becomes child's play with a preset, programmable temperature function.
Even more convenient to work with the "PowerSteam" option. Here you simply place the milk jug with fresh milk under the PowerSteam and the milk will be frothed as if by magic. The S545's powerful boiler for hot water and steam ensures consistent product quality. The cups can be pre-warmed on the heatable rack provided for that purpose.
The 10 litre compressor fridge "R" including milk level control, temperature control and has a lockable door. It is equipped with a gear milk pump and should be installed on the right side of the Rex-Royal S545 machine.

Features/Benefits
The S545 accentuates the innovative design and the amazing qualities of the new generation of coffee machines most clearly.
The integrated hot water/steam system has an hourly output of 58 litres and therefore also fulfils the highest time and capacity requirements.
The S545 can be fitted with one, two or three grinders for an even more diverse range of coffees and a simple milk solution if necessary.
A ventilation system of the grinders ensures the highest quality of bean processing and prevents reroasting of the beans in the container.
Now the S545 also offers a high-performance power steam with temperature monitoring. The consistent milk temperature guarantees perfect milk foam.

Related Links:
http://www.hgz.ch/en-us/products/rex-royalfullyautomatic/s500/s545cst.aspx